Family

January 14, 2003
PERSONAL JOURNAL
Poor Economy, Tense Times Prompt Resurgence of Divorce
By JEFFREY ZASLOW
Staff Reporter of THE WALL STREET JOURNAL
Not long ago, state governments from Oklahoma to Michigan were developing programs to save marriages. Researchers were declaring that unhappy couples could find happiness without splitting up. And there was great speculation that the Sept. 11, 2001, attacks would lead estranged spouses to recommit.
Now, however, pessimism has returned to the divorce arena.
Despite all the high expectations and marriage-saving energy, new studies indicate that divorces are getting more contentious and that, unlike past economic downturns -- when troubled couples stayed together for financial support -- this one is having little ameliorative effect.
While national statistics lag several years behind the present, court records and a wave of localized surveys -- particularly after the terrorist attacks of 2001 -- show that divorce filings are on the rise in many parts of the country. In fact, 78% of divorce attorneys say their caseloads are increasing or remaining steady, according to a recent survey by the American Academy of Matrimonial Lawyers.
The Institute for American Values, a New York-based think tank, reviewed court records in five cities where the media issued post-9/11 reports of couples calling off divorces, including Philadelphia and Houston. The group found no evidence of dwindling filings. In New York state, scene of one of the attacks, divorce filings were little changed in the latter months of 2001 compared with 2000. In late 2002, filings were up 4% compared with the year before. Contested divorces -- the most acrimonious kind -- were up 6%.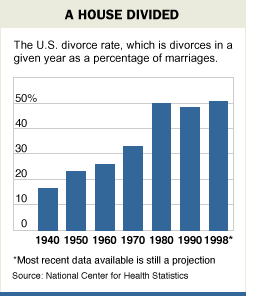 "Marital terrorism continues unabated," says Alan M. Rubenstein, a judge in Bucks County, Pa. "Spouses are still wreaking havoc on one another."
In Hamilton County, Ohio, which includes Cincinnati, divorce filings remain steady and domestic-violence filings have risen 9%. In Miami-Dade County, Fla., divorce filings and domestic violence are up 3%. In Santa Fe, N.M., and surrounding counties, divorce filings have climbed 13%. Compounding that is a new study of combat veterans from World War II through Vietnam, which showed that they were 62% more likely than their generation to dissolve their marriages -- an ominous sign as tens of thousands of troops prepare for battle in Iraq.
All of this comes as a number of comprehensive studies of divorce challenge the conventional wisdom that spouses are better off leaving a bad marriage. According to a recent multiuniversity study of more than 5,000 couples, for example, almost eight out of 10 couples in "very unhappy" marriages who avoid divorce call themselves "happily married" five years later. Of those who divorced, just 50% were happier.
The overall divorce rate, measured by the proportion of splits to marriages in any given year, soared to near 50% between the mid-'60s and early '80s. It has remained steady since. But many predicted that the stresses of recent years, combined with various state initiatives designed to discourage divorce, would help cut the divorce rate further.
That hasn't happened. Frederic J. Siegel, a divorce attorney in Stamford, Conn., saw this firsthand on the very day of the Sept. 11 attacks. The soon-to-be ex-wife of one of Mr. Siegel's clients worked on a high floor of the World Trade Center. In the weeks before the attacks, the couple had battled ferociously over finances. All morning on Sept. 11, the husband fantasized that his wife was dead and would no longer be able to make his life miserable.
She survived, however, and the dynamics between the couple improved. They settled their case. "Her frame of mind changed and so did his," says Mr. Siegel. But now, 16 months later, these ex-spouses are back at each other's throats, bickering over child and money issues that still connect them.
WHERE TO FIND HELP


Some Web sites that may help you avoid winding up in divorce court:

| | |
| --- | --- |
| WEBSITE | COMMENT |
| | Offers resources, state-by-state laws, divorce bookstore. |
| | Tips on avoiding conflict, resolving issues, and keeping divorce attorneys at bay. Suggests ground rules for peaceful divorce. |
| | Links to 127 Web sites on divorce, including those focused on divorcing fathers, children of divorce, and do-it-yourself splits. |
| | Information on mediation services. |
Indeed, if Sept. 11 is a factor in family court these days, usually it is as an excuse. Judge Rubenstein says "a slew of defendants" have cited the terrorist attacks as the reason they are behind in child-support payments. They claim the attacks affected their livelihoods, but the judge accepted such explanations in just two of about 75 cases.
The same frustrations are also dogging government programs aimed at keeping more couples together. In the late 1990s, a number of states launched initiatives to reduce divorce rates, partly because of the focus on family values but also because broken families are a drag on state budgets.
Oklahoma, which has the nation's second-highest divorce rate, earmarked $10 million to a program that asks young couples to take marriage-education classes and postpone weddings. In 1999, Gov. Frank Keating vowed to cut the divorce rate by a third by 2010. But now, project researchers say the goal is likely unreachable, given the societal factors fueling divorce, including more lenient divorce laws, a more affluent society and a hands-off approach by religions. Driving Oklahoma's high divorce rate: The average first-time bride there marries at age 22; grooms at 24. That is 2.5 years younger than the national average. The state also has a high poverty rate, another strong factor in divorce.
In Florida, a four-year-old state law gives couples a $32.50 discount on their marriage license if they take marriage prep courses. It is unclear if the effort has had any impact. Last month, Gov. Jeb Bush vowed to make combating divorce a cornerstone of his second term. He is studying divorce-fighting initiatives launched in other states, including "marriage covenant" laws that invite couples to sign contracts requiring a two-year waiting period before divorces are final.
But such external influences won't easily overcome the "underlying reasons" for divorce, says David Popenoe, co-director of the National Marriage Project, a marriage-trends think tank. One potent negative force: people's demand for "their rights to self-fulfillment," he says.
The rage factor is a byproduct of that. In the fall 2002 survey by the American Academy of Matrimonial Lawyers, 47% of attorneys said the contentiousness of divorce is increasing. Just 10% notice a decrease.
In some cases, modern inventions are providing new outlets for impulses that have long broken up marriages, like extramarital temptations. Almost two-thirds of the attorneys called the Internet "a significant factor" in divorce cases they handled last year, as married people increasingly use it to find new love interests or visit pornographic sites.
Before the divorce wars can improve, there will need to be a societal sea change, says David Olson, a University of Minnesota professor who has studied 21,000 marriages. "The stigma of divorce and the tolerance for bad relationships are so low now. People used to suffer through difficult times and hope things would get better. Now people give up too early."
The terrorist attacks did provide lessons for married couples, if we choose to pay attention, says Prof. Olson. "After Sept. 11, people rallied and looked at the strengths they'd need to rebuild. Couples can do the same thing. Rally together and look for the strengths you both have that can rebuild your marriage."
But some are still skeptical. Brian Muldoon, a divorce mediator in Evanston, Ill., was in a session with a couple that day. "It was surreal," he says, "because as the buildings were collapsing in New York, they were still arguing. There was a momentary pause and they said, 'Gee, it's really sad for New York,' but then their emotions were right back at the top. I was flabbergasted."

How Your Marriage Stacks Up
The latest research into divorce challenges the conventional wisdom about why marriages fail. Here are some of the warning signs.
| | |
| --- | --- |
| QUESTION | LATEST THINKING |
| Did you live together before marriage? | Mom was right. Researchers now say that married couples who lived together are 50% more likely to get divorced. They tend to have a "renter's agreement" philosophy that makes them less committed to sticking through hard times. |
| How long have you been married? | Forget the seven-year itch. New data show that more divorces happen in the fourth year of marriage than any other. |
| Do you fight with your spouse? | Maybe you should. As long as you're an open-minded combatant, bickering can be good for relationships -- in fact, some researchers say it's the key to marital bliss. |
| Do your maritial problems seem insoluble? | Don't worry if they do. The latest thinking is that some of the most successful couples don't solve their problems -- they outlast them. It's called the "marital endurance ethic." |
| Do you fantasize about divorce? | You need a dose of reality: Almost 80% of couples who were "very unhappy" in their marriages and agreed not to divorce described themselves as "happy" five years later, a new study finds. Of those who divorced, only half were "happy" five years later. |
Source: University of Wisconsin; University of Minn.; Statistics Canada; Institute for American Values study led by University of Chicago sociologist Linda Waite

E-mail jeffrey.zaslow@wsj.com

Updated January 14, 2003 Copyright 2003

Dow Jones & Company, Inc. All Rights Reserved

About this site Copyright © 2014 - Kura Trading Company. All rights reserved. Comments? Suggestions? webmaster@kuratrading.com