First Amendment Issue

January 10, 2003
Videogame Industry Thwarts Plans to Keep Fare From Kids
Videogame Makers Use Free Speech to Block Laws on Keeping Violent Fare From Minors
By JOSEPH PEREIRA
Staff Reporter of THE WALL STREET JOURNAL
Concerned that it's too easy for children to get their hands on sexually explicit and violent videogames that depict everything from rape to decapitation, Rep. Joe Baca (D., Calif.) next month plans to introduce a bill in Congress making it a federal crime to sell or rent such games to minors.
The videogame industry doesn't seem very concerned. "We've got lots of lobbyists on Capitol Hill," says Doug Lowenstein, president of the Interactive Digital Software Association. "We'll make sure it doesn't get anywhere."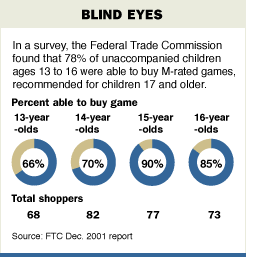 Ever since the school shootings in Columbine, Colo., and elsewhere fueled speculation that violent videogames could engender real-life carnage, lawmakers have tried to propose legislation restricting the sale and rental of videogames to children. In the past 2-1/2 years alone, 16 anti-videogame bills have been introduced in states and cities from New York state to Fairbanks, Alaska.
But the proposed restrictions have failed in almost every case, due in large part to heavy lobbying, lawsuits and threats of legal action by the videogame industry. The one piece of legislation that has survived, a statute that would prohibit stores from selling violent or sexually suggestive games to kids 17 and younger, passed in St. Louis two years ago, is now tied up in court, with the industry seeking to overturn it. In some cases, videogame makers have teamed up with retailers' trade groups and with the powerful Motion Picture Association of America to quash plans to restrict games to minors. The MPAA, for one, doesn't want to open the door for any First Amendment problems on its turf; what's more, footage from movies is often licensed by game makers for their products.
The primary defense being used by videogame proponents centers on the First Amendment. Any such bans, they say, would constitute an infringement on free speech and be tantamount to censoring artistic expression, music and scriptwriting -- all of which are elements in videogame making.
What's more, proponents say, the public has a choice not to buy games that it might find objectionable because, like the movie industry, videogame makers have adopted a voluntary ratings standard to warn of games containing violence, nudity or strong language. The motion-picture industry created its rating system in 1968, after public outcry about a new crop of movies -- molded in the rebellious and sexually liberal attitudes of the 1960s -- began to emerge. Amid fears of possible government intrusion into movie making, the MPAA set up the now familiar G to X rating system as a guide for parents. M was later changed to PG and more recently X was replaced by NC-17, a "no one under 17 allowed" category. The movie-ratings system is voluntary and a majority of movie theaters in the U.S. have agreed to keep underage children from viewing films meant for mature audiences. But critics say guideline breaches are not uncommon.
Under the videogame rating system, "E" is for everyone; "T" for 13 and older; "M" for 17 and older and "AO" for adults only. And the 10 biggest retailers of games have agreed not to sell restricted games without checking for identification.
But industry critics point out that the self-policing system isn't working because retailers have an economic incentive to sell these games to as many consumers as possible. They also argue that the Supreme Court has upheld local laws prohibiting sale of pornography to minors, contending that the same logic should apply to some of the more extreme videogames.
Legislation advocates point to a 2001 report by the Federal Trade Commission, which found that underage children were able to purchase restricted games 78% of the time. The study was based on a government sting operation, in which it used children as young as 13 to purchase such games without being accompanied by an adult.
"That high a failure rate is intolerable," says Daphne White, president of the Lion and Lamb Project, an anti-violent-video-advocacy group in Washington. "If a 12-year-old could buy cigarettes three out of four times, we'd be scrambling to change the system."
The videogame industry doesn't dispute the FTC's findings, but says the sting operation doesn't tell the full story. The nation's videogame players are equally split between kids and adults 18 and older; but industry statistics show that 90% of all games are bought by adults, indicating that many of the violent or mature-themed games are being bought by parents for their own children.
The intensified debate comes as videogames are getting more graphically violent and sexually provocative, often with cinematic shots from movies and video of live striptease shows spliced into the action.
The videogame industry's biggest victory to date came against the city of Indianapolis, which in 2000 passed a law requiring videogame arcades to keep children under 17 from playing games that contain "graphic violence or strong sexual content."
The American Amusement Machine Association, a trade organization for videogame arcade operators, sued. The Seventh Circuit Court of Appeals in Chicago struck down the ordinance in March 2001 as unconstitutional. Placing videogames on the same pedestal as "The Odyssey," "War and Peace," and "Dracula," the appeals court noted that "violence has always been a central interest of human kind" and "a recurrent and even obsessive theme of culture both high and low."
What's more, Indianapolis was ordered to pay the trade group's $318,000 in legal fees, under a federal law requiring cities and states to pay legal costs for plaintiffs who successfully sue alleging First Amendment violations. In all, its unsuccessful defense of the ordinance cost Indianapolis more than $700,000, including its own legal fees. Scott Chinn, the city's attorney, calls the regulatory effort "a worthwhile undertaking." But he adds, Indianapolis won't be trying to create another anti-videogame law soon.
In some cases, the videogame industry has successfully nipped potential restrictions in the bud. Last February, lawmakers in Georgia introduced a bill that would make it illegal to sell or rent videogames that depicted "decapitation, blood shedding, dismemberment and grotesque cruelty" to anyone under the age of 18. The bill was dubbed the "Violent Video Game Protection Act."
To oppose the bill, the videogame industry enlisted Pete Robinson, a former majority leader of the state senate and a well-known local lobbyist. "He's a very powerful guy with lots of connections," says Rep. Carol Hugley, the bill's chief author. Once Mr. Robinson became involved, she adds, "I knew the bill wasn't going to get the support we needed." The videogame trade group, IDSA, also sent an attorney to speak to Georgia lawmakers. The bill never made it out of committee. Mr. Robinson didn't return phone calls seeking comment.
Despite their many defeats, advocates for more controls on videogames haven't lost heart. They point to one court victory, in which a federal judge in St. Louis last year ruled in favor of a St. Louis County ordinance that restricts the sale or rental of mature-themed videos to those under 17 without parental consent. After reviewing four videogames, the judge determined that the games contained "no conveyance of ideas, expression or anything that could possibly amount to speech," and was more akin to "board games and sports than to motion pictures."
The industry is appealing that decision to the Eighth U.S. Circuit Court of Appeals. The ordinance will be "resoundingly overturned" just like the Indianapolis law, predicts the industry's Mr. Lowenstein.
Write to Joseph Pereira at joe.pereira@wsj.com
Updated January 10, 2003
Copyright 2003 Dow Jones & Company, Inc. All Rights Reserved